What is Dual Enrollment?
Dual Enrollment is the broad term for opportunities for high school students to take college courses while still in high school.
Students take Dual Enrollment courses for either Dual Credit or College Credit Only. Dual Credit courses award high school and college credit simultaneously for the same course. College Credit Only courses award college credit (and not high school credit) for a college course.
Montana University System colleges and universities offer Dual Enrollement courses via two delivery models: Early College and Concurrent Enrollment.
Early College courses are standard college classes that are open to high school students and offered on a college campus or online for Dual Credit or College Credit Only.
Concurrent Enrollment Courses are college courses taught at a high school to a class of high school students by a qualified high school teacher for Dual Credit.
One-Two-Free
One-Two-Free is the Montana University System's Du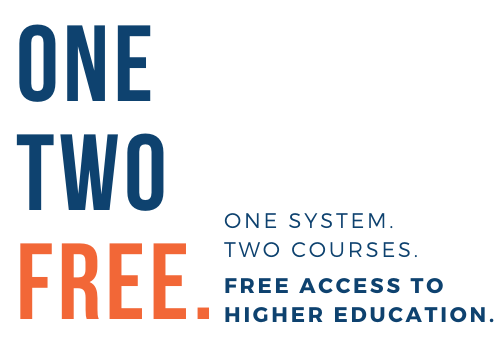 al Enrollment program. One-Two-Free launched in August 2018 as a pilot program funded by the MUS to increase access to higher education for high school students, reduce education costs for Montana families, and enhance student success. In February 2020, Montana Governor Steve Bullock and Commissioner of Higher Education Clayton Christian announced the continuation of One-Two-Free. The program offers two dual enrollment courses, or up to six credits, through the MUS to all eligible students for FREE. One-Two-Free also allows students who demonstrate hardship to apply for a scholarship to cover tuition for additional Dual Enrollment courses.
Dual Enrollment Costs
Through the One-Two-Free program, students may enroll in their first two dual enrollment courses, or up to six credits, tuition free. Students may enroll in additional Dual Enrollment courses at the Dual Enrollment rate of 50% of two-year resident tuition. Students who demonstrate hardship may apply for a scholarship to cover tuition for additional Dual Enrollment courses. Course fees may apply for specific courses.
First two courses, or up to six credits, through One-Two-Free
FREE
50% two-year resident tuition
Students demonstrating hardship
May apply for scholarship for additional courses
Tribal colleges are not part of One-Two-Free at this time, but most offer free or reduced tuition programs for students. Contact a campus dual enrollment coordinator for more information.
Dual Enrollment Eligibility
To be eligible for Dual Enrollment through the MUS, students must:
Be enrolled in a Montana school district*
Be between the ages of 16-19 and/or junior/senior standing.**
Have successfully completed the required classes at their grade level and be on track for high school graduation within four years.
*Enrollment in Montana high school district exceptions: The Commissioner's Directive on Early Enrollment and Tuition Waivers includes a provision allowing traditional high school age students enrolled in GED programs, home school students, and middle school students to qualify for the dual enrollment student tuition rate in a qualifying program.
**Age and graduation progress eligibility exceptions: Exceptional circumstances may exist for individual students. When students do not meet one or more of the dual enrollment eligibility requirements listed above, the high school's designated official or the student's parent may request an exception. Exceptions are most often requested for age, and less frequently graduation progress. The request must be in writing, explain the reason the exception is being requested, and provide evidence that the student can benefit from dual enrollment in the specific course, learn at the collegiate level in the course, and manage the combined high school and college course load. The designated college official or committee must concur in writing that an exception is warranted for the student to participate in the dual enrollment opportunity. "Students under age 16 and/or under junior class standing may use placement exams already widely used in the Montana University System (e.g. pre-ACT, pre-SAT, Accuplacer, etc.) or other established placement exams deemed acceptable by the enrolling campus to demonstrate readiness to enroll in a college course in lieu of a written request from a high school designated official." In no case may exceptions be used to meet minimum class size requirements. Eligibility exceptions do not apply to required course prerequisites and required placement tests or scores (commonly required for mathematics and composition/writing courses). Homeschool students may request exceptions.
Dual Enrollment Guidelines
For more information on Dual Enrollment in the Montana University System, including information on eligibility, instructor requirements, operational standards, and other practices and policies, please view our Operational Guidelines for Dual Enrollment.