GEAR UP (Gaining Early Awareness & Readiness for Undergraduate Programs)
Mission:
Montana GEAR UP believes that postsecondary education is possible for all Montana students, regardless of economic background. Montana GEAR UP supports schools, students, and their families to increase students' college and career readiness through academic preparedness, postsecondary planning, and financial aid knowledge so that they may succeed in their education beyond high school.
Vision:
Montana GEAR UP will be the model for elevating the potential of all students to pursue post-secondary success.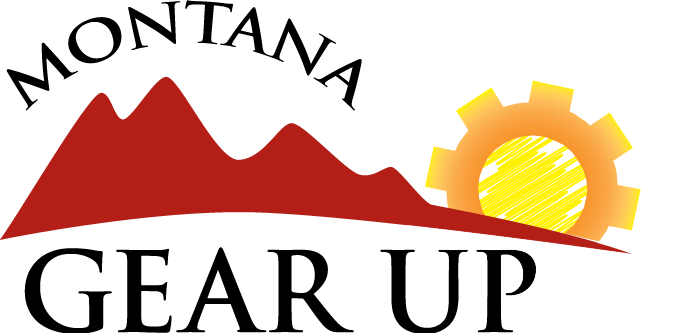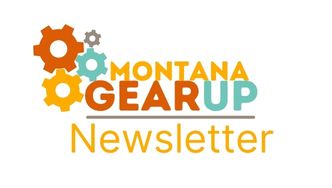 Spring 2022
What happened at the spring planning meeting? What's coming up for GEAR UP summer programs? Check out our newsletter and find out!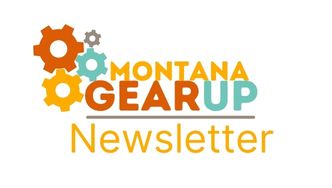 Montana GEAR UP Newsletter- Previous issues
Fall 2021
June, 2022 | Issue 5
Check out OCHE College Access Team's installment of the College Access Newsletter. These issues are designed to inform Montana students, educators and parents of information related to college including scholarship opportunities, state-wide college access events, testing dates, FAFSA info, educator and university spotlights, and more!
---
Student and School Services -
Partners with 18 middle and receiving high schools from around the state, 13 of which are located on or near Montana's seven American Indian reservations, to improve high school graduation and college enrollment rates.

Serves students in grades seven through twelve, providing college and career readiness services, such as tutoring, financial aid information, dual enrollment, college applications, enrollment in rigorous academic courses, comprehensive mentoring, college visits, supplemental curriculum materials, summer programming, and professional development for school staff.

Works with colleges and universities to support GEAR UP college freshman with their transition to and retention in college.

By the end of the seven year grant, more than 8800 students, including 5800 American Indian students, will have participated in the program.
State Services -
Fund the ACT + Writing test for all Montana public high school juniors.

Support for Montana Common Core Standards implementation.

Implement Montana College Application Week campaign.

Support Graduation Matters Montana initiatives.

Funding for the annual Montana School Counselor Association Conference, Montana Indian Education for All conference, and the Montana College Access Network.
Funding -
The U.S. Department of Education awarded the Montana Office of Commissioner of Higher Education a seven-year, $28 million GEAR UP grant in September 2018. (Montana was also awarded grants in 1999, 2005, 2011, and 2017!)
Goals & Objectives -
Goal 1: Increase the academic performance and preparation for postsecondary education of GEAR UP students
Objective 1.1 - Increase student academic performance in mathematics

Objective 1.2 - Increase student demonstration of academic preparation for college
Goal 2: Increase the rate of high school graduation and enrollment in postsecondary education for GEAR UP students
Objective 2.1 - Increase graduation rates of GEAR UP students from high school

Objective 2.2 - Increase enrollment rates of GEAR UP students in postsecondary education
Goal 3: Increase GEAR UP students' and their families' knowledge of postsecondary education options, preparation, & financing
Objective 3.1 - Increase student knowledge of available financial aid and the costs and benefits of pursuing postsecondary education
Objective 3.2 - Increase family knowledge of available financial aid and the costs and benefits of pursuing postsecondary education
Serves Students in 7-12th grades at 18 middle schools and their receiving high schools to improve high school graduation and college enrollment rates.
Partners with postsecondary institutions to support GEAR UP college freshman with their transition to and retention in college.
Will serve 8,800 students, including 5,800 American Indian Students, by the end of the grant.
Montana GEAR UP schools receive a sub-grant from the state office to implement their plan and services. Utilizing school specific data, each school evaluates their unique strengths and develops an implementation plan of services connected to GEAR UP goals. To maximize the benefit and effectiveness of GEAR UP, a local school management team consisting of at least a school administrator, counselor, GEAR UP liaison, core content teacher, student, parent, and SIG personnel (if applicable) will develop the school's tailored program in collaboration with the Montana GEAR UP school grant manager.
ACT, Inc.
Evaluative Services
American Indian and Minority Acheivement Council
The purpose of the Montana University System American Indian Minority Achievement Advisory Council is to identify ways in which we can strengthen our service to all people of Montana.
Area Health Education Center
Childwise Institute
College & Career Readiness Evaluation Consortium
Dennis & Phyllis Washington Foundation
The Dennis and Phyllis Washington Foundation supports a broad spectrum of worthy organizations benefiting at-risk youth, economically and socially disadvantaged individuals and families, and those with special needs.
Montana Association of School Business Officials
MASBO is dedicated to training and supporting the people responsible for business operations in Montana schools. Our goal is to enable members to manage the businessin order to support education for Montana children.
Montana Association of Student Financial Aid
Montana Office of Public Instruction
Montana Advisory Council on Indian Education
Montana Post-Secondary Education Opportunities Council
Montana Board of Public Administration
Montana Chapter of TRIO Aspire
Montana College Attainment Network (MCAN)
Montana College Attainment Network's mission is to support, serve, and enhance our affiliate members in their efforts to increase post-secondary participation and completion for all Montanans. GEAR UP and MCAN realize the importance of working together to serve students and school personnel.
Montana School Counselor Association
Montana University System
The Montana University System (MUS) is comprised of sixteen public universities and colleges, enrolling more than 46,000 students each semester. The MUS is commited to providing students, parents, and the public easy access to critical information about enrolling and succeeding in the Montana University System, such as, information on preparing for college, financial aid, transfer of credits, and distance learning.
National GEAR UP
National Association for College Admissions Counseling
National Council for Community & Education Partnerships
Reach Higher Montana
School Administrators of Montana
Check Montana's live college access calendar for important dates, events & resources for students!