Student Regent Nomination Process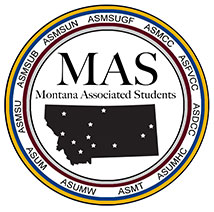 Annually, the Montana Associated Students (MAS) review applicants for the next academic year's Montana Student Regent, and make at least three nominations to the Office of the Governor in the month of March. The Governor will make a selection by the end of the month of June. According to the statute regarding this appointment, "The student must be registered as a full-time student at a unit of higher education under jurisdiction of the board of regents. The length of term of the student member is 1 year… begin[ing] July 1 and end[ing] June 30." Below are the application requirements set forth by MAS. No specific experience is required but preference will be given to those who can demonstrate previous engagement with the Montana University System in a formal or informal capacity.

For details on the upcoming application process and timeline, please contact the MAS council at mtassociatedstudents@gmail.com.
The Montana Associated Students are now accepting applicants for the 2022/2023 Student Regent through April 15th. The MAS council will review applicants and forward finalists to the governor's office by April 30th. The document below outlines the position in more detail. Please share this application process with any interested Montana students.
Submit a resume, cover letter, one personal statement, and four letters of recommendation with at least one being from a student to mtassociatedstudents@gmail.com by the deadline, April 15th.