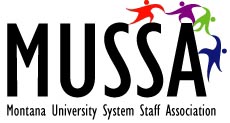 Montana University System Staff Association
MUSSA email meeting notes from January 7, 2011
MUSSA member discussed the upcoming interaction with the Board of Regents at their January 13 meeting in Helena.
MSU Bozeman asked for feedback and statistics from each of its sister campuses. MSU Havre and Billings did not have the funding or representative available to travel to Helena. MSU Great Falls is forming a Senate and would not be attending.

December, 2010
Total Employees
incl temp

Regular Employees
Classified
(union and non-union)
 
MSU Bozeman
3,526
2,635
1,014
38.48%
MSU Northern, Havre
521
211
58
27.49%
MSU College of Tech, GTF
250
124
51
41.13%
MSU Billings
742
495
204
41.21%
 
5,039
3,465
1,327
38.30%
Bozeman noted that we were using the statistical information to determine what sort of remote representation model might work best for Staff Senate as we move toward a version of President Cruzado's "One MSU" vision and concept. Right now we are very disconnected, and I would like to see that change for the better following the "reaching out" model we have used to gain input from our Extension employees.
UM Missoula would be attending the Regents meeting in Helena. However, none of the UM sister campuses would be able to attend.