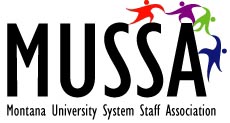 Montana University System Staff Association
MUSSA presentation to Board of Regents May 27, 2010 in Havre, MT
MUSSA members present Julie Strobel and Jane Stuart, MSU Northern; and Kevin Thane and Jeannette Radcliffe, MSU Bozeman.
MUSSA members met prior to the breakfast presentation to the Board of Regents.  MUSSA members then discussed issues specific to their campuses and classified employees.  The group finalized the agenda for the Regents breakfast presentation.  The planning meeting was concluded.
MSU Bozeman related the following ISSUES/CONCERNS
Jeannette relayed stories regarding issues that are happening on the MSU Bozeman campus.  One student received a fellowship this past academic year which he received in monthly payments.  The procedure for paying him was to prepare a Banner payment Authorization (BPA) on blue paper (the blue paper is recognized by the Business Office as needing faster than normal processing).  It needed signature approval from two separate departments before payment could be made.  Although the BPA was processed seven to fourteen business days before payment was expected, there was only one month in the entire academic year the payment arrived on time without a follow up phone call.  There is date stamp proof on one occasion that this "priority BPA" stayed in that same office for ten days before being sent to the Business Office for payment.  The office holding up the processing had an employee leave (one of her duties was to process this type of paperwork) early in fall semester and was not replaced.  Prior to that employee's departure, there were minimal issues of paperwork delays in that office.  This is one example of how budget cuts can affect students.

An Admin Officer in another department filled an Accounting Associate II position six months ago with a well qualified person who has a degree in Accounting.  Since there is a policy that does not allow for a new employee to be hired for a salary that is higher than the lowest paid MSU employee in that same classification, the new employee was offered $10 per hour.   The department wanted to pay the employee a higher wage and could afford to do so, but was prevented by the policy.  Because the employee was desperate to find a job, she accepted the position.  Consequently, the new employee is leaving for a higher paying job off campus after only seven months with MSU.  In a recent Staff Senate meeting, an HR representative stated the cost of hiring and training a new employee is approximately one-third of their annual salary.

Facilities Services reported the same type of thing happening in their department.  They hired fixed term employees (carpenters) this past year.  Historically, these "temporary" employees are hired into permanent positions at the end of their fixed term, but this year they were terminated due to budget constraints.  With fewer employees, response time for repairs (such as replacing a light fixture in a stairwell) is longer which creates a safety issue.

A Financial Aid Office representative stated the student enrollment for summer 2010 is "through the roof" and, although not short staffed, they are having difficulty processing the increased applications and awarding financial aid which is a manual process in summer.  This, in turn, affects the Business Office because students cannot pay their bills until they receive their Aid.
Air Force ROTC said scholarship applications for ROTC have significantly increased and they do not have the extra $150 in their budget this year to buy the applicants parking passes as they have in the past when they come to campus to interview.  They feel that could affect recruitment.

A Business Office employee stated they are not filling a permanent position due to budget cuts.  Instead, they are "bending the rules" by hiring students in temporary positions to get the work done.

Without pay increases, the new health insurance increase has effectively caused a salary reduction for all employees.
MSU Bozeman related the following SOLUTIONS/POSITIVE FEEDBACK
Jeannette reported the there is an annual Employee Recognition Award ceremony in which 50 MSU employees were nominated – 5 received awards.  All were recognized for their contributions and dedication to MSU.

HR implemented a series of trainings called "Solid Finances in Shaky Economic Times" which were well attended.  They were held at various times of the day and days of the week to afford opportunities for all employees to attend at least one or more.
A group of three MSU employees recently made a presentation to Staff Senate about their newly formed "Training Council".  They are self-appointed and all have training backgrounds.  They recognized the need for on-going training and the resources available on campus.  They proposed specific training for example, Administrative Associate III or Accounting Technician II that would help employees who would like to improve their skills or possibly prepare to apply for a higher paying position on campus.  

They've already conducted a training called "Difficult Conversations" which they expected about 50 people to attend.  Their attendance was 60 and the response was overwhelmingly positive.

At that point Kevin explained Pooled Resources, an idea formed about four years ago.  It was essentially the same concept – MSU has resources on campus that can be shared with other employees to improve/learn new skills.  The program died about two years ago because no one had the extra time needed to get the program off the ground.  
The need is obviously still present.  The drawbacks they encountered were:  training won't get you a raise, but might help you get another job on campus; may not be well received by some supervisors; any fee charged would kill the program.
Some suggestions were to conduct training for supervisors, which would include not only the rules supervisors need to enforce, but more importantly, how to be a "good" supervisor.  There were suggestions to include a broad range of training, such as Safety Training for Facilities employees, or training for custodians about the safe use of their cleaning products and what not to mix.

Another idea was to find funding for a coordinator who would facilitate this project – identify resources, prepare training material, etc.  Possibly central administration could free up a small amount of funding to get it started?
Since one of the goals Staff Senate is working on is Retention, providing training to help with job skills is one way to accomplish that.
UM Missoula related the following ISSUES/CONCERNS and SOLUTIONS/POSITIVE FEEDBACK
Jane read the following letter from the Staff Senate UM Missoula.
Board of Regents meeting
May 27 & 28, 2010

Dear Board of Regents,
It is with regret that Staff Senate representatives from The University of Montana, Missoula, are unable to join you this week in Havre.  We do feel it is important to share current concerns confronting staff at The University of Montana as well as report on our (Staff Senate's) progress in boosting employee morale.  

We recently polled our Staff Senators for feedback and asked them this question:  "If they could have a one-on-one conversation with the Board of Regents, what would they want the Regents to know?"
Wages:  Not surprisingly, wages continue to remain our biggest issue.  Pay freezes continue as our cost of living expenses rise.  More recently, our insurance continues to increase.  One staff member commented her insurance costs for next year are rising by more than $153.00 a month.  Staff will be taking homeless in their paychecks next fiscal year.
Compression has become a concern with recent pay increases for employees making less than $10/hr.    Three employees in the department of Biological Sciences will receive the pay increases, which are long overdue, but now employees at the next level will be making the same wage.
Workload:  In the long run, the practice of not filling open staff lines to reduce department budgets will ultimately affect how services are provided to students, not withstanding how it affects staff workloads.  As quality staff employees leave UM for better paying positions, departments are sometimes unable to fill positions, resulting in additional duties being reassigned to remaining staff members.  Obviously, this compounds the low wage concern by asking staff to take on additional duties without the benefit of receiving a higher wage with added responsibility.
Enrollments continue to steadily increase at UM and with the recession hitting Missoula this past year, unparalleled layoffs in many business sectors have added potential students seeking educational opportunities.  While increased enrollment is healthy for the University, which we are very happy about, it adds to the workload of an already stressed workforce.
Retention:  In many departments, staff are on the front lines serving students as they navigate their way through the quagmire of registration, financial aid, general education requirements, understanding university policy and procedures.  Retaining qualified staff equipped with the tools to guide our students is essential to UM's mission.

We feel boosting morale among our colleagues is an important part of UM's Staff Senates mission.
Staff Senate considers our active participation/role in the governance of the University an important piece to staff morale – it empowers staff and gives us all a sense of belonging.  We appreciate the opportunity to take part in and contribute to UM's mission.

Staff Senate continues to award Kudos to staff who have made a positive contribution to UM.  Kudos are awarded on an ongoing basis and are posted on Staff Senate's Website.  Kudo's award nominations come from students, colleagues, faculty, administrators and the Missoula community.
Staff Appreciation Day has become a big part of Staff Senate's efforts.  We look forward to our role in this annual spring event at UM, which from our observation has grown dramatically over the last few years.
Thank you for the opportunity to provide a brief report from The University of Montana – Missoula's Staff Senate. 
Respectfully,

On behalf of UM's Staff Senate
Tammy Yedinak, President
Darlene Samson, Vice President
MSU Billings related the following SOLUTIONS/POSITIVE FEEDBACK
Kevin talked on behalf of Kurt Laudicina, Staff Senate Chair of MSU Billings regarding issues, concern, and a morale boosting idea that MSU Billings classified staff are doing.  Kurt noted that a few years ago, the Billings Staff Senate adopted the FISH! Philosophy as a way to increase morale in staff.  As new chairs of Staff Senate came and went, some of the FISH! Philosophy got lost as well.  This year, they took a proactive approach and decided to get the FISH! Philosophy injected back into our workplace.   This spring semester, 3 classified staff from Staff Senate arranged and presented two workshops on the FISH! Philosophy.  They showed the video, had a guest speaker, talked about ways they have incorporated the FISH! Philosophy into their jobs, had a wellness portion, and gave away a few prizes.  They were able to engage about half of their staff (they were unable to make it mandatory) and received stellar feedback.   Those who were familiar with FISH! and that had seen the video before, were glad to get a refresher;  those who hadn't seen it, welcomed it.  We never stopped doing our FISH! Patrol, which happens  every Friday (which is Jacket Spirit Day) in a different building on campus.  They take their prize bag around, and anyone who is wearing MSUB gear, gets to pick from the bag.  This has always gone over well.  They also try to incorporate FISH! tips into our Staff Senate newsletter, the Voice.  They are now working on how to keep the FISH! Philosophy reminders going throughout the year.   Kurt thinks the timing of these workshops has also been beneficial for their campus.  In a time when it seems there are more positions not being hired for after it becomes vacant for whatever reason, and people are given an increased workload, we can still remember that we can have a good time at work.  This has been a good solution for us regarding employee morale and I'm happy to share it. 
The breakfast meeting concluded.  The Regents and Staff Senate members attended the regular May 27 and 28 meeting of the Board of Regents.