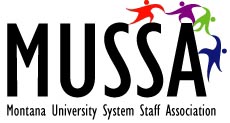 Montana University System Staff Association
MUSSA Conference Call, May 18, 2010 at 10:00 a.m.
Conference call participants included, Julie Strobel and Jane Stuart from MSU-Northern, Darlene Samson from UM-Missoula, and Joan Ford, Jeannette Radcliffe, and Kevin Thane from MSU-Bozeman.
The Board of Regents will be meeting May 27th and 28th in Havre.  It was noted that MUSSA members are scheduled for a 7:00 a.m. breakfast meeting with the Regents on Thursday May 27th.  As of this conference call Julie, Kevin, Jeannette, and perhaps Jane are planning on attending both the breakfast and the Regents meeting.  Kevin encouraged all campuses to participate in the Regents meetings and MUSSA interactions with the Regents.
Conference call participants discussed the domino effect of budget reductions.
MSU Bozeman, MSU Northern, and UM Missoula reported that job vacancies are being reviewed with an eye toward the budget.  Some jobs are either not being filled or contracts are not being renewed.  All expressed concern that with increased student enrollment there is increased pressure to do more with fewer employees.   Job positions with student interface (such as admissions, registrar, financial aid, etc.) are facing situations that are affecting students.  Also noted was that the business of the University (such as accounting, custodial services, maintenance, etc.) are also being affected by having fewer employees.
Examples:
Admissions materials were sent out late causing the student to choose a different institution.
An IT person did not have his contract renewed.
Documents forwarded to a department for approval sat in an inbox for almost three weeks before being processed and forwarded to the Business Office.  Resulting in delayed reimbursement.
An issue of growing concern is morale.  Morale is more than just a work load issue as it affects retention as well.  Employee turnover is costly not just to productivity but also the time to advertise and interview, and the cost of training. 
Examples:
Turnover has been seen in custodial staff due to morale and work load issues.
The impact of having fewer employees with more work to do is affecting supervisors who are trying to get more productivity out of their employees.  Supervisors are showing signs of stress.
The Technology Colleges are facing proportionally larger increases in enrollment numbers when compared to the increased enrollment of the four-year institutions.  This amplifies the pressures felt by employees at those institutions.
The group suggested that all MUSSA members be contacted to solicit solutions to these work load and morale issues.  Kevin will prepare a presentation for the Regents breakfast meeting that will include campuses unable to attend.  It was noted that while talking with the Regents at the upcoming breakfast meeting, it would be a good idea to talk about these issues and offer possible solutions. 
Examples:
Share existing educational resources developed by Human Resources and Wellness with other Montana campuses.  Human Resources offer mini seminars and proactive training.  Wellness offers stress management classes and web cast programs.
Extension developed a lecture series offered at MSU Bozeman called "Solid Finances in Shaky Economic Times".  Sharing this series with other Montana University System institutions could be helpful.
The group discussed developing a MUSSA Fact Sheet that classified employees could share with Legislative candidates that include talking points regarding what the higher education institutes do for the state and the impacts of reduced educational funding.