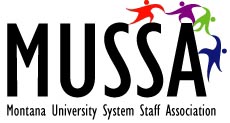 Montana University System Staff Association
MUSSA Conference Call March 1, 2010 at 10:00 a.m.
Conference call participants included Darlene Samson, UM Missoula; Kurt Laudicina, MSU Billings; Kevin Thane, Jeannette Radcliffe and Joan Ford MSU Bozeman.  Apologies were received from Julie Strobel, MSU Northern and Tamara Yedinak, UM Missoula who were unable to participate on the conference call.
Kevin announced that there is a Board of Regents meeting March 4 & 5 in Dillon.  Students and faculty have meeting times scheduled with the Regents but staff does not.  The group reviewed items on the agenda.  Kevin highlighted the January 28, 2010 conference call minutes, budget section, where Deputy Commissioner Robinson stated that "in 2002, the wording stated that the Board of Regents voluntarily chose to cooperate with the reductions.  Mr. Robinson explained that a 5% reduction for the Montana University System (MUS) would be $7.4 million. He reminded the board that the process is evolving and there are a lot of issues to be addressed yet. He added that the MUS is prepared to move forward with the process and he recommended voluntarily providing the budget reduction information."  Kevin also highlighted that the Regents would reviewing the BoR Strategic Plan Update and FY11 budget update.
The issue of furloughs was raised.  Kevin stated that his understanding was that furloughs are being considered as a "last resort" or "job saving" measure and not part of the overall budget reduction plan.
UM Missoula, MSU Bozeman and Billings's campuses are creating budget savings by either leaving vacancies unfilled or delaying hiring.  With reports of enrollment records for spring enrollment, staff is continuing to do more with less people.
A concern was expressed regarding the impact on staff that the higher salary awarded to MSU Bozeman's President and the anticipated corresponding increase for UM Missoula's President.  Kevin noted that he had expressed this concern to the Regents at the 1/14/10 meeting.  That increasing salary to hire experience and expertise was acceptable as long as staff was also awarded the same consideration.  Giving this consideration to staff however appears to be counter to the MUS MAP Implementation & Compensation Guidelines, section2.0 Compensation Structure, policy.
Kevin requested that, if at all possible, at least one representative from each campus plan on attending the next Board of Regents meeting.  It is anticipated that staff will be on the agenda, since we were not on the March agenda.  The next Board of Regents meeting is May 27 & 28 at Montana State University-Northern in Havre. 
For more information regarding MUSSA or these notes contact Kevin at staffsenate@montana.edu or call 406-994-5716.