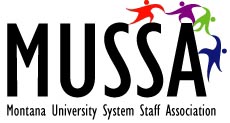 Montana University System Staff Association
MUSSA Conference Call, January 7, 2010 at 10:00 a.m.
Conference call participants included Darlene Samson, UM Missoula; Tammy Yedinak, UM Missoula; Kurt Laudicina, MSU Billings; Heather Ireland, UM Helena; Kevin Thane, MSU Bozeman; and Joan Ford, MSU Bozeman.  Apologies from Julie Strobel, MSU Northern; Lee Anne Gills, MSU Great Falls College of Technology; Carol Reed, Montana Tech; and Becky Harrington, UM Western who were unable to participate on the conference call.
Kevin began the meeting by welcome newcomers to Montana University System Staff Association (MUSSA).  He noted that twice a year the leadership of Staff Senates or Staff Representatives on Montana University System (MUS) campuses come together to make presentations to the Board of Regents.  MUSSA has used these meeting times to share, the needs and concerns of the classified employee.  He then gave a historical overview of past MUSSA presentations to the Board of Regents. 
MUSSA will meet at noon with the Board of Regents in Helena on January 14.  Attending MUSSA members will meet at 9 a.m. in Donaldson room 123 to finalize presentations.
All campuses participating on the conference call, agreed that the economy and the State budget cuts are having an impact on their institutions.  Each campus is dealing with how to reduce their budgets.  MSU Bozeman budget chair is trying to protect jobs and avoid layoffs or furloughs.  Kevin noted that the 1/7/2010 Bozeman Daily Chronicle carried an article "MSU Braces for State Budget Cuts", in which the budget committee chair notes that much of our budget is personnel.  Missoula sees furloughing as a temporary solution and has furloughing low on their budget choices.  Helena and Billings stated that budgeting details are not being discussed.
All four campuses reported that they had larger than expected enrollment.  Bozeman noted that some vacancies are not being filled in order to reduce the budget.  Missoula stated that they are not officially managing vacancies but are being mindful when posting openings.    Both Helena and Billings reported that they are at full employment and like the other campuses are doing more with less.  It was agreed that with increased enrollments and vacancies not being filled staff employees are facing increased workloads.
The long term health of the institutions was discussed.  Kevin noted with the articles like the one noted above, it creates job insecurity.  Among Bozeman's Staff Senate goals is an effort enhance employee morale through recognition efforts and other Staff Senate driven initiatives.  Bozeman noted that the MUS new hire policy, now being enforced, states that new hires will be paid at the lowest rate for the job title on campus.  Bozeman is seeing job applicants with strong credentials and work expertise and feels the policy is both a morale and a retention issue.  Tammy and Darlene wanted to check into this hire policy at Missoula but believed the pay rate started at the lowest but was negotiable. Heather in Helena had no knowledge but planned on investigating this on their campus.
Kevin noted that Bozeman is working on some data, including the number of employees per student and other research, especially for the BoR presentation.  He is also planning on discussing the new President and goal areas that the Staff Senate is working on.  Heather is planning to discuss the effect that the increased enrollment is having on staff.  Darlene is planning on talking about their Staff Senate's goals, including a sample of their new newsletter to help improve communications on campus. 
Leadership from MSU Bozeman, MSU Northern, UM Missoula, and UM Helena Staff Senates confirmed they would be at the Helena BoR meeting.      Kevin offered to present issues for other campuses if they were unable to attend on the 14th.  Contact Kevin at staffsenate@montana.edu or call 406-994-5716.