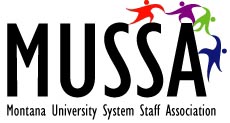 Montana University System Staff Association
MUSSA Retreat September, 2008 - Montana Tech, Butte -- Agenda
Thursday, September 25


9:30 am
Staff from MSU, MSU Northern meet with Montana Tech; UM as per BoR agenda
10:30 am

Welcome, introductions & collaborative setting of agenda.
Discussion of recruitment, retention, compensation, and cost of living issues.

Noon
Lunch
1:30 pm

Pooled Resources wrap up
MUSSA web site
Goals for FY09
Campus experiences, issues, and celebrations
Member organization best practices
Any other business

6:00 pm
Meeting debriefing with Tech, and further MUSSA discussion
Welcome!
The 2008 MUSSA retreat was attended by Julie Strobel, MSU Northern; Katie Dalessio, Shelley Hiniker, Michelle Crowe, UM Missoula; and Kevin Thane, Jeannette Radcliffe, Donna Kelly, Michael Dean, and Sara France, MSU Bozeman. We were sorry that UM Missoula had to leave at 5:00 pm on Thursday, and that MSU Billings, Helena College of Technology, and UM Western were unable to participate, due to pressures of work. We had invited MSU Great Falls to attend, without luck. However, we were delighted to welcome Faye Wilson, from Montana Tech, who was able to join us for a period on Thursday morning, and in the evening.
MUSSA purposefully chose the Board of Regents' meeting as the venue for this year's retreat, as agreed in May. It was most unfortunate that more MUSSA members could not participate, but the retreat was very useful nonetheless. MUSSA set its final agenda on Thursday morning, such that those present were able to observe the Regents' meeting in progress, and had opportunity to meet Regents, Commissioner's Office staff, and network generally with delegates from across the Montana University System during breaks and between agenda items.
Thursday's Events
MUSSA's first discussion topic was recruitment, retention, compensation, and cost of living issues across the MUS. Campuses spoke of continued attrition of seasoned staff (retirement being a significant factor for UM), salary inequity and compression, and less than adequate retention of newer hires. Area costs of living (particularly housing, in the case of MSU) continue to burden classified employees; and salaries remain uncompetitive. MPEA is touring campuses reporting some of its intent in MUS negotiations. MUSSA spoke of this, in connection with its compensation and costs of living discussions, and about MUSSA member organizations' current communications with the various unions, and possibilities for the future.
Pooled Resources Wrap-Up. It was agreed that interested staff were most likely aware of the status of Pooled Resources but an explanatory statement will be displayed on the MUSSA web site.
MUSSA Web Site. A discussion took place regarding how best to utilize the MUSSA web site now that it is no longer required for Pooled Resources. It was agreed that MUSSA meeting notes, and other notices, will be moved here, from the MSU Staff Senate site. Once this transition has been made, MUSSA will discuss further potential enhancements and uses.
Goals for FY09. After discussion, MUSSA agreed on the following goals:
To continue seeking recruitment and retention initiatives, and to promote the sustainability of employees, from both the greater MUS perspective, as well as that of each campus.


To enhance communications at all levels

about MUSSA activity, and
between MUSSA members and their respective staff organizations.

UM suggested the convenience of MUSSA holding meetings with various other parties (e.g. administrators, HR directors etc) around Board of Regents' meetings, since most people already attend BoR.

Member experiences, issues, celebrations, and best practices (where not previously discussed) were raised. UM Staff Senate was congratulated for winning the Governor's prize for its Homecoming float. MSU Staff Senate mentioned its proposal (to MSU administrators) that Staff Senate conduct a recruitment outreach pilot to actively promote MSU as an employer. A pilot would involve a presence at career fairs, an open house, etc. The URL of MSU's benefits calculator was also given. This was developed by MSU's Administration & Finance along the lines suggested to the Board of Regents as part of MUSSA presentations (marketing the MUS benefits package) in November 2006.
Discussion of other business included (i) the November Board of Regents' meeting. MUSSA does not have agenda time in November, but activities in conjunction with BoR meeting might again be beneficial. (ii) MUSSA also reviewed its observations from the Regents' meeting of Thursday.
Faye rejoined MUSSA members from MSU, and MSU Northern at 6:00 pm. There was a debriefing of the day's events, discussion MUSSA history and activities. Faye offered the Tech perspective on current issues (which was strikingly similar to MUSSA's earlier discussions). Faye hopes to encourage further Tech interest in MUSSA. She has been added to the MUSSA listserv.
Friday's Events
MUSSA members from MSU, and MSU Northern attended as per the Board of Regents' agenda, until 11:30 am. Of special note was the Governor's visit during which he spoke of energy initiatives, distance learning, and "green" issues. The Montana Green Campus web site was introduced.
As the MUSSA retreat was adjourned, members agreed that the event had been very worthwhile and informative. Before UM Staff Senate left on Thursday, MUSSA agreed to conference call within the next couple of weeks (to discuss next steps). Sara will arrange this, and follow-up on other retreat outcomes.