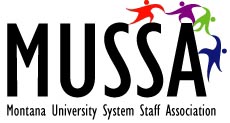 Montana University System Staff Association
Board of Regents Meeting, February 28, 2007 - Helena
MUS Staff Associations 12:00 noon
The following are CEPAC's impressions of the day:
Representatives from the MUS Staff Associations (MUSSA) met in Helena for their scheduled agenda time with the Regents. Christine Muller and Julie Strobel (MSU Northern); Jami Burk and Trudi Passo (UM Helena); Janna Myers and Kelli Grantham (MSU Billings); Michelle Larsen, Mary Engel and Sara France (CEPAC) attended. Unfortunately, UM Missoula, Western, MSU Great Falls, and Montana Tech representatives were unable to attend. Regents Barrett, Christian, Buchanan, and O'Laughlin were present, together with ex-officio Regent, Commissioner Sheila Stearns, and Director of Labor Relations, Kevin McRae. Regents Hamilton and Pease joined the meeting in progress.
MUSSA met at 10:00 am (to further discuss recruitment and retention issues on each campus, and to shape the content of its meeting with the Regents), and afterwards until 3.00 pm (to provide Sara France, as a member of the Commissioner's Office Recruitment and Retention Task Force, with relevant input). As always, MUSSA's interactions were mutually supportive, and we learned a lot from each other. MUSSA was again well received by the Regents, who showed much interest in our presentation:
Regent Barrett suggested the Board and MUSSA members introduce themselves after which Jami Burk, hosting the meeting for MUSSA, opened by thanking the Regents for lunch today. Jami reported that MUSSA now includes representatives from all 8 campuses even though, regrettably, UM, Tech and MSU Great Falls couldn't be in Helena today.
Mary Engel gave an update on the status of the MUSSA-introduced recruitment and retention initiatives stating that MUSSA's meeting with MUS HR directors, slated for December, unfortunately hasn't yet happened. [Kevin McRae afterwards suggested pursuing the initiatives through the Task Force. However, MUSSA members later elected to coordinate System-wide progress by working campus to campus].
Mary then spoke about Pooled Resources, reporting that the needs assessment is complete and priority topics identified. MUSSA is currently soliciting inventory and hopes to launch the web-based facility in April.
Sara France introduced CEPAC's presentation "MSU's Inability to Recruit and Retain is at Critical Levels". Once again, while the materials presented describe a crisis unique to MSU, MUSSA indicated where CEPAC's findings were relevant to classified staff across the MUS. Sara stressed the urgency of MSU's situation and acknowledged that MSU is able to work independently towards resolving some issues, but that others require MUS collaboration. She spoke of the importance of the upcoming OCHE Task Force, and thanked the Regents and Commissioner for forming it. Kevin McRae confirmed the Task Force's timelines, stating that a full report and recommendations would be submitted to the Board in time for the September 2007 meeting. Sara referred to the recommendations of CEPAC's research report and how the urgency of MSU's need has compelled CEPAC and its shared governance partners to progress the implementation of various initiatives for the Bozeman campus. Sara briefly described what is being done relevant to enhancing the working environment, supporting classified professional development, streamlining the recruitment process, researching new hire turnover, improving MUS's image, and maximizing existing advantages.
Regent Barrett acknowledged that recruitment and retention issues exist across the MUS are being experienced in different ways, and to differing degrees, on each campus. He said that the Regents are taking this very seriously, and are anxious to receive meaningful recommendations from the Task Force. But he also mentioned relevant (financial and legislative) limitations. Meanwhile, he asked whether CEPAC's efforts to aid resolution of MSU's crisis were being supported by the Administration. Sara France confirmed that indeed they were.
Regent O'Laughlin asked whether recruitment and retention was a problem overall on each campus, or only in some titles/areas? MSU Billings reported staff leaving for better wages and spoke of competition within the community. UM Helena described recruitment and retention issues across the board with very low numbers of applicants. MSU Northern described retention levels as being rather better than on some other campuses but that restructuring at Northern often results in vacancies not being filled. MSU Bozeman spoke of the diverse duties of the 1,100 classified staff working in Bozeman and remotely and the consequent depth and complexity of the problem across the work force.
Commissioner Stearns urged MUSSA to maintain the regular communications so useful to the MUS, and spoke enthusiastically about future meetings with the Board.
Kevin McRae was then invited to give a short update on the progress of relevant legislative activity. He briefly described the progress of House Bill 13 (the State Pay Plan) and House Bill 95 (a proposal to increase the employer contribution to the TIAA-CREF defined contribution retirement plan).
The staff's continued hard work was acknowledged and MUSSA was thanked for its efforts on behalf of the MUS.
March 1, 2007 - Board of Regents Staff and Compensation Committee meeting. CEPAC representatives joined our shared governance partners at this meeting on March 1. Kevin McRae summarized the progress of HB13 and HB95, this time outlining his role in upcoming MUS contract negotiations. He then moved on to the differing recruitment and retention problems within the MUS, and to MSU's requests (from 2005 to date) to remedy wage issues as triage in some areas of critical need. Regents asked some clarifying questions. Regent Barrett spoke of preventative measures for the larger issue, and stated that the MUS's current recruitment and retention situation requires an alternative to a "one size fits all" strategy. Comments on critical, local need and System-wide requirements were exchanged between the Committee and campus executives. Preliminary reporting from the OCHE Recruitment and Retention Task Force is expected in May, with final recommendations due at the September Board of Regents meeting.