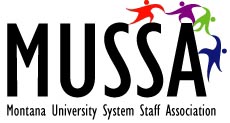 Montana University System Staff Association
CLASSIFIED EMPLOYEE PERSONNEL ADVISORY COMMITTEE
BOARD OF REGENTS MEETING
March 17, 2005
(The following are intended to be read as notes, rather than Minutes or a verbatim account, of the meeting).
CEPAC/Staff Senates/Staff Association/Labor Management Committee from the Montana University System had 40 minutes' agenda time at the Board of Regents' meeting, March 17, 2005. The meeting was held at the Higher Education Complex, in Helena.
Representatives from each senate/association/CEPAC had previously agreed on collaborative presentations regarding classified terminations data, Performance Development and other MAP program updates, and general activities from each campus. Unfortunately, on March 17, UM-Missoula, Montana Tech, nor MSU-Billings were able to attend. Terminations data collection delays had been experienced on some campuses and, due to ongoing collective bargaining, presentation of data, and discussion of various aspects of the MAP Program, were curtailed.
Christine Muller (MSU-Northern), Bob O'Driscoll, and Sara France (CEPAC, MSU-Bozeman) met at 10:30 am, later joined by Liane Forrester (UM Western). Presentation to the Board took place at 12:45 pm. The meeting continued to build on the CEPAC/Senate/Staff Associations' collaborative and cooperative working relationship, discussing issues and experiences of classified staff on all campuses. Those present created a well presented report that reiterated the cohesion among these staff organizations. In addition, Kathy Crego (Director, Labor Relations, Office of the Commissioner of Higher Education), passing the meeting room, was invited to give some updates on the outcome of recently completed MPEA negotiations, including significant proposed changes to various components of the MAP Program. Kathy spoke of the use of the term "staff compensation plan" being encouraged, rather than MAP which doesn't accurately reflect a specific component of the program. Kathy also briefly reviewed the work of the Regents' Staff and Compensation Committee: (1) the draft policy and objectives for professionals contracts and compensation will remain in committee pending the collection of further input (Kathy invited classified staff representatives to offer feedback). (2) three items slated for Regents' action on March 17: (a) a proposal to provide a dependent premium waiver to employees earning less than $25,000 [which we later heard had passed], (b) consideration of expanding the university system health insurance policy to cover a "dependent" adult, other than a spouse [also passed with the definition of "dependent" yet to be confirmed], and (c) Wellness coverage of a preventative colonoscopy every 10 years, after the age of 50 [passed].
Regents (Stephen Barrett, John Mercer, Mike Foster, Mark Semmens, Kala French, Lynn Morrison- Hamilton, Commissioner Sheila Stearns) met with the classified staff representatives at 12.45 pm. Liane Forrester (UM-Western), acting as "site" host, made an introductory speech thanking the Regents for classified staff agenda time, and explained the regretted and unavoidable absence of UM-Missoula, MSU-Billings and Montana Tech. Liane referred to the continued collaboration among the Senates/Associations/CEPAC, and our strong working relations. Liane's introduction explained that, due to the current bargaining calendar, some of the planned presentation had been postponed.
The MUS Labor Management Committee report was given first, by Sara France, labor co-chair, MUS LMC:
The MUS Labor Management Committee is currently reviewing the committee's charge, function and direction with a view to making it more efficient and effective. The Senates/Associations/CEPAC support this development, and MPEA's recent tentative agreement calls for revitalizing the MUS LMC. For this reason, there is no specific activity update to deliver at this time, but the committee looks forward to reporting in July.
The Regents had no questions or comments in this regard.
The presentation then moved to each campus's classified staff activity:
Bob O'Driscoll opened for MSU-Bozeman's CEPAC:
"President Gamble's recognition of the importance of shared governance to create and disseminate knowledge continues to evolve at the MSU-Bozeman campus. Classified employees appreciate the opportunity to participate in that process. Shared governance at MSU-Bozeman involves input from faculty, professional and classified employees as well as students. Voting membership of the University Governance Council (UGC) is comprised of faculty and professional council members. MSU administration, CEPAC, and ASMSU are ex-officio members. This structure has facilitated shared governance in the past very well. The need for classified staff (CEPAC) and students (ASMSU) to become full sharing partners in the process has been brought forward from both faculty and professional UGC members. With the leadership of the current UGC Chair, Warren Jones, and Chair-elect, Shannon Taylor, a process has been started to have classified staff and students as full voting members in the shared governance process. Such inclusion will continue to facilitate and expand the path of providing advice and direction to the university leadership about issues, policies, and procedures that impact the direction and quality of the university's instruction, research, and service programs".

Sara France then spoke of CEPAC's specific recent activity. She explained that all campuses had hoped, today, to collaboratively answer Chairman Mercer's November question about staff terminations and turnover. However, she explained that as the depth of material available with which to answer the question was revealed, the Senates/Associations/CEPAC realized that more time was needed to create a meaningful presentation, and this would be forthcoming in July. Sara then gave a summary of CEPAC's activity and shared governance partnership based upon a handout provided.


Christine Muller spoke for MSU-Northern, referring to 18 months of collaboration across the university system to fine tune and polish the various components of the MAP Program. MSU-Northern has just completed the creation of supervisor and employee surveys, based upon similar work at Bozeman. With news of Tuesday's tentative bargaining agreement, Christine did not report in detail about performance development, and other MAP Program issues, at Northern. Commissioner Stearns clarified that Christine was referring to the Staff Compensation Plan, since the Regents had been encouraged to use this term.


Liane Forrester reported on the reactivation of the Staff Association at non-unionized UM-Western, and the revision of its bylaws. The Staff Association has recently achieved one block per semester classes for classified staff, and has been providing regular staff and supervisor training related to MAP (staff compensation plan).
Looking at CEPAC's handout, Regent Semmens asked whether:
when speaking of shared governance, do the Senates/Associations/CEPAC have a forum in which to discuss what the university system is doing and whether or not things are being done correctly? Sara France responded that the senates/associations/CEPAC have created listservs and commenced regular conference calling. They meet prior to Regents' presentations, and come together at Labor Management Committee. The groups use these communications for discussion of matters of common interest, but do not have a venue specific to discussing the effectiveness of system practices per se.


do classified staff lobby the legislature? Sara France replied that, in January, when the pay plan was a house bill being considered by the House Appropriations Committee, CEPAC had accompanied Faculty and Professional Councils at a hearing and provided information about the circumstances of classified employees who'd not had a raise in essentially two years.
Regent Hamilton asked whether the Senates/Associations/CEPAC had had chance to review the agenda items of the Staff and Compensation Committee, specifically the proposed policy and objectives for Regents contracts, and if we had any input to offer. Christine Muller and Liane Forrester responded that the draft documents had been read but that our various groups understood that a further period of information-gathering was anticipated. Sara France said that earlier that day Kathy Crego had invited the Senates/Associations/CEPAC to provide input, and that CEPAC had previously offered some preliminary observations to President Gamble. Sara said the staff representatives were grateful to the Regents for requesting their input. Chairman Mercer apologized for the difficulty in differentiating action items on the agenda.
Chairman Mercer informed the Senates/Associations/CEPAC that the Regents have slated a Board of Education and strategic planning meeting for July. However, he acknowledged our references to the importance of our time with the Regents and confirmed that agenda time would be made available if we requested it for July (if not, we would resume our agenda time in November). Such arrangements would be handled through the Commissioner's office.
The presentation concluded with an exchange of thanks for presenting/listening and dialogue, and the expectation of future meetings. President Gamble attended the presentation and commended the CEPAC representatives on their work.