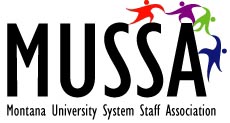 Montana University System Staff Association
CLASSIFIED EMPLOYEE PERSONNEL ADVISORY COMMITTEE
BOARD OF REGENTS MEETING
November 18, 2004
(The following are intended to be read as notes, rather than Minutes or a verbatim account, of the meeting).
CEPAC/Staff Senates/Labor Management Committee from the Montana University System had 40 minutes' agenda time at the Board of Regents' meeting, November 18, 2004 on the UM campus in Missoula. Representatives from each committee/senate had previously agreed on presenting classified salary/cost of living/retention issues, from a collaborative and united standpoint. Verna Hand, Liane Forrester (UM Western), Bob O'Driscoll, Genevieve Burmeister, Sara France (CEPAC, MSU-Bozeman), Kathy Frantzreb (Staff Senate, UM-Missoula), Christine Muller (MSU-Northern) met at 10:00 am, and presented to the Board, at 12:40 pm. Sara France, co-chair of the MUS Labor Management Committee, presented on MUS-LMC's behalf.
The 10:00 am meeting consisted of meaningful discussion around issues in common to the classified staff on all campuses. Participants worked together on materials for presentation to the Regents, and continued to build a collaborative relationship. A cohesive presentation resulted, from both a systemwide and per campus perspective. In addition, the content of the Compensation Committee's 11/17/04 meeting was reviewed. Three items discussed were reported to Senates/CEPAC as: (a) the possibility of the introduction of a bonus scheme (one time and/or base building) rewarding exemplary service by contract professionals (as suggested by the University of Montana). Preliminary suggestions for a basis for such a scheme were reported as including bonuses as a percentage of base salary; (b) a Wellness proposal to consider including some increased services. For example, current coverage includes a blood draw but perhaps this should be extended to include some intervention based on the results of the blood draw; (3) consideration of multi-year contracts for adjunct faculty to provide ongoing, high quality non-tenure track teaching staff (currently, contracts of this kind are for one year only).
The Regents met with the classified staff representatives at 12.40 pm. Unfortunately, Student Regent Kala French could not be present but had previously explained to CEPAC that she was required to participate in a simultaneous meeting. Kathy Frantzreb, as "site" host, made an introductory speech welcoming the Regents to Missoula, and mentioning how much classified staff value this agenda time.
The MUS Labor Management Committee report was given first:
MAP has commenced its third full performance development cycle, and most participants are entering the Checkpoint Review stage. As reported in July, there will be no major changes to the forms or practices during the current cycle with the intention of consolidating participants' familiarity with the process. However, feedback continues to be encouraged, and reviewed. Regent Semmens asked about the gist of recent feedback on the program to which Sara France responded that the consistent comment refers to continued and improved funding. He asked whether participants still wanted amendment of forms and the amount of work involved in completing them. Sara replied that feedback along those lines continued to be offered. However, the eight campuses had agreed to complete the current performance development cycle without further change in order to facilitate collection of meaningful information from participants across the MUS - all of whom would have been using the same forms and would have consolidated their experience of the procedures over the year.
Dependent fee waivers are being used on most campuses. Individual campuses are gathering data regarding usage and financial impact. LMC will review this information at its January meeting.
Training - further to our July report describing LMC efforts to consolidate supervisor training efforts within the MUS, we have commenced to explore the development of a core curriculum of topics by utilizing the knowledge base provided by each campus.
Exit Interview Data Collection - also in the early stages of development, is an exit survey designed to collect meaningful data from resigning MUS employees about their reasons for leaving, and experiences working within the university system. Again, the labor and management participants at LMC are collaborating on the project. LMC intends for the finished survey to be regularly utilized on each campus to provide comparable data system-wide. The Regents appeared pleased that these projects are being pursued.
Kathy Frantzreb then introduced the individual campus presentations, each making reference to the "Compensation Study Report to the Board of Regents Budget Committee, September 2004". Kathy prefaced the intention of the presentation to complement the Report and as a helpful supplement to the Regents in their consideration of Report materials.
UM Western opened, detailing:
longevity issues on the Western campus (65 staff totaling 573.33 years' service)
the Report's average hourly rate of $12.12 (for Western) representing an average of 9 years' experience
turnover (8% in 2003) likely to increase with inadequate compensation
cost of recruitment, loss of intellectual knowledge and training costs
lack of compensation resulting in job dissatisfaction and lower productivity
Next, MSU-Bozeman presented:
Bob O'Driscoll began by recapping CEPAC's goals and the issues ongoing (flexible pay option funding, MAP survey outcomes, supervisor training, fee waiver policy enhancements, staff recognition, etc). Bob invited the Regents and Commissioner to visit CEPAC at any time.


Sara France presented comments stemming from CEPAC's interactions with the MSU-Bozeman administration, Faculty and Professional Councils and ASMSU with particular reference to the Compensation Study Report:

CEPAC thanked the Regents for commissioning the report
outlined the 5 categories of classified employment on the Bozeman campus, comprising 131 titles with hourly rates ranging from $7.21 to $28.84. Reported on the 456 staff earning less than $12/hr and the adverse impression a $12.75/hr average gives to recruitment for positions commanding nearly $30/hr. Longevity was discussed (over half the workforce at MSU-Bozeman have at least 5 years' service) with reference to return on investments made in classified staffing. CEPAC respectfully suggested that re-examining the average salary data, by category of employment, might be useful.
CEPAC noted that the classified average hourly rates were based on Montana comparisons only, but that national searches are appropriate particularly in the Classified Professional category.
CEPAC referred to loss of employees off campus. Recruitment costs: 270 classified searches in FY04 at a minimum cost of $146,000. However, one CEPAC member was recently involved in a classified search where the departmental personnel commitment only amounted to $1,059.
The Report cites MSU-Bozeman hourly rates at 94% of Montana average. CEPAC spoke of the discouraging effect on productivity and morale resulting from all MUS campuses being below 100% of the Montana average.
CEPAC raised state wide cost of living increases since the last pay raise in November 2002.
CEPAC referred to the Report's description of Gallatin County being at 146% of the Montana median for owner-occupied housing in 2000 and related this to MSU-Bozeman staff working more than one job and living remotely in an effort to make ends meet. Forty percent of the classified staff covered by the Report work on the Bozeman campus and are subject to these extraordinary circumstances.
CEPAC stressed its intent in referring to cost of living issues, county by county, was not to compromise efforts to provide fair compensation across the MUS.
UM-Missoula closed the proceedings echoing the statements of the other campuses. They reiterated that exit interview data, from Missoula, identified 40% of employees leaving for better pay. UM-Missoula's handout referred to 36% of the workforce earning less than $10/hr and 57% making less than the Report's average of $12.46/hr. It spoke of recruitment costs and lost productivity due to staff turnover.
The Regents were very attentive, asked questions of each campus, and readily recognized the common themes running through the presentation. Regent Foster was specifically interested in recruitment costs and the impact of online postings on these expenses. UM Western and MSU-Bozeman acknowledged that while announcements are posted on the web, classified recruitment continues in a largely traditional form or newspaper advertisement, and circulation of hard-copy applications on both campuses. It was their opinion, therefore, that web postings currently contributed little saving to recruitment costs. Regent Mercer wondered how turnover compares within each category of classified employment, and the classified representatives undertook to research this for the Regents. The Regents were asked about the next steps, following receipt of the Compensation Study Report. Commissioner Stearns said that there would follow consolidation of all the feedback received, after which some further studying of the Report would take place. (No time line was indicated or requested).
A couple of other items raised were (1) Staff Senates/CEPAC referred to the Compensation Committee meeting 11/17/04. Commissioner Stearns made a statement of clarification: that the issue of bonuses for professional staff was an element of discussion raised with the Compensation Committee as it considers professional salary increase guidelines for use as/when increases might become applicable. Further, that this item is at the committee stage and hasn't yet reached the Regents. Staff Senates/CEPAC requested that, as and when the matter is brought before them, that the Regents consider the creation of lump sum bonus methods for professionals on an "even playing field" with classified (ie MAP's $1000 lump sum bonus ceiling). (2) Regent Mercer informed the Senates/CEPAC of email from State classified employees regarding the inequity of treatment of State vs MUS staff. This was specifically in respect to the Dependent Fee Waiver Pilot to which State staff do not have access. He asked for classified input which might assist him in responding to complaints of this nature.
Time allotted having expired, the meeting closed with enthusiastic exchanges between the Regents and Senates/CEPAC for continued good work.
President Gamble attended the presentation and, afterwards, spoke to the CEPAC representatives. He was very complimentary and supportive of their work.