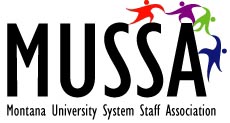 Montana University System Staff Association
CLASSIFIED EMPLOYEE PERSONNEL ADVISORY COMMITTEE
BOARD OF REGENTS MEETING
March 25, 2004
(The following are intended to be read as notes, rather than Minutes or a verbatim account, of the meeting).
CEPAC/Staff Senates/Labor Management Committee from the Montana University System had 50 minutes' agenda time at the Board of Regents' meeting, March 25, 2004 on the UM Western campus in Dillon. Representatives from each committee/senate had previously agreed on presenting classified salary issues from a collaborative, united standpoint. Verna Hand (UM Western), Bonnie White, Bob O'Driscoll, Sara France (CEPAC, MSU-Bozeman), Bev Hawkins-Llewellyn, Dana Smith, Kristine Csorosz (Staff Senate, UM-Missoula), Tammi Miller (Staff Senate, MSU-Billings), Leah Noel (Labor Management Committee, MSU-Northern) met at 11:00 am, and Susan Ossello and Pam Hogart (Staff Senate, Montana Tech) joined us before the Board, at 1:00 pm. Bev Hawkins-Llewellyn is also co-chair of the MUS Labor Management Committee.
At the eleven o'clock meeting, representatives agreed that collaborative presentations similar to that planned for the current meeting were a good idea. It was further agreed that campuses would rotate in order of presentation at each meeting. Thus, since Missoula presented first in November, Bozeman would commence this time. Representatives shared details of the research compiled, and reviewed the gist of presentations to be made. Everyone was greatly encouraged by the enthusiastic turnout for this meeting.
Our scheduled time before the Regents began promptly at 1:00 pm. Verna Hand welcomed the Board to Dillon, and the CEPAC/Staff Senate/Labor Management representatives introduced themselves individually.
Bonnie White spoke briefly of the work of MSU-Bozeman's CEPAC, and commented on the success of the shared form of governance practiced on the Bozeman campus.
Sara France next referred the Regents to CEPAC's letter of February 12, 2004 and accompanying MAP survey data. She recapped the survey process (it was conduced in December, 2003; 39% response represented a good cross section of the MAP population in terms of age/gender etc. Answers were focused and provided valid data). Sara reminded the Regents that CEPAC believes this to be the first survey of its kind, where employees directly involved in a program offered feedback to the upper administration, rather than the administration soliciting information from the staff. Sara reported the process, from the outset to its current status, to represent a collaborative alliance of mutual cooperation from the staff to the upper administration. She described the project as an energizing experience and as a fine example of the open/all level management style promoted by President Gamble on the Bozeman campus. Sara then touched on the answers to the Regents' questions, as answered by CEPAC in its letter of February 12th, said that the outcomes of the survey (which were similar to those reported by the MUS Labor Management Committee but addressed in greater detail and depth) were being pursued via appropriate channels.
Afterwards, Regent Roehm asked, from the full survey data available, what were the issues of greatest concern about MAP. Sara responded that the primary concern was most definitely funding. She said that a presentation on salaries was to follow but, with respect to MAP, she reiterated the low amount of money allocated to achievement pay, the staff's perception that they might as well not apply for flexible pay options if their department has little money, and the strong message that achievement pay is no substitute for a cost of living raise. Sara described how, as a direct result of the survey, the upper administration had cooperated with CEPAC in identifying a line item in the MSU-Bozeman FY04 budget for non-base-building bonuses and that this funding was currently in process of being distributed. Regent Roehm asked, outside funding, what were the main issues for improvement. Sara responded by explaining the cumbersome work involved with all aspects of the flexible pay system but, particularly, with performance evaluation. She also spoke of two supervisory problems: one, a perceived lack of supervisory commitment to MAP; two, the problem of inadequate provision of training/educational support for supervisors in their general supervisory roles. Sara explained that CEPAC had written to UPBAC in support of program funding for the latter. Bonnie White referred to Professional Council's upcoming survey of supervisors.
Regent Semmens asked whether a greater proportion of each salary should be linked to achievement. Sara said it was something that had been requested by some respondents and referred to reports of lack of motivation due to the perception that everyone receives the award no matter how little effort they make. She said that this issue will be raised with the Bozeman MAP Advisory Committee. Regent Semmens expressed understanding for how the perception described could discourage motivation. A short discussion ensued about the non-monetary gains of the MAP program, and Sara France cited survey respondents' reports of personal growth, increased job satisfaction and increased communications. She cautioned, however, that the survey suggests an indeterminable degree of good communication predates MAP. Regent Semmens asked, if linking a greater portion of salary to performance were to be adopted, would the proportions be decided through labor negotiations, and Bev Hawkins-Llewellyn said that they would. Bev further reported MAP as being an improvement on previous systems and how it was improving employee/supervisor communications within the University of Montana. She acknowledged that adaptation to the program will take time. She echoed Sara's comments by stressing that the priority for classified staff is pay, adequate funding for MAP, increased accountability, supervisor training, supervisor accountability/participation in MAP. Bev reported that achievement pay had been denied in some cases at UM and that Human Resources personnel are visiting offices periodically, checking in with staff and focusing on compliance.
Regent Hamilton asked whether MAP was administered, and training facilitated, in a similar way on each campus. Sara France confirmed that administering the program is the responsibility of the Human Resources department everywhere. Bev Hawkins-Llewellyn said that education and training varies from campus to campus. Regent Hamilton went on to ask whether system-wide or centralized resources could be used for management training. Kristine Csorosz reported that UM has an extensive management program available for both personal and career development. However, she was unsure of how, or if, what is learned through these programs is being applied on the job. It was acknowledged that campuses are working out ways to pool resources for cost effectiveness.
Bev Hawkins-Llewellyn then spoke of the MUS Labor Management Committee report, as submitted to the Regents, and introduced the combined work of CEPAC and the Staff Senates in collecting salary data. Bev explained the data submitted for the University of Montana campuses, and Tammi Miller and Sara France addressed that from Montana State University.
Regent Roehm asked rhetorically - meaning to respect bargaining boundaries - how much achievement pay would be acceptable. Bev Hawkins-Llewellyn stated that MUS-Labor Management Committee will be adequately prepared to address this kind of issue before the next round of pay negotiations.
Regent Mercer asked whether people don't take jobs within the MUS because of the pay, or whether positions are not filled because there are insufficient qualified people available to hire. He also wondered whether or not the MUS colleges were adequately training/educating students to fill the requirements of the local work force. A discussion ensued. CEPAC/Staff Senates could not specifically answer the query but supposed it could be investigated.
Regent Hamilton asked whether campuses collect information on poverty levels in relation to employees. Sara France said that MSU-Bozeman's staff had referred to "the working poor" when providing information relating to needing two jobs to make ends meet. She said that, in the short time available before the Board of Regents' meeting, CEPAC had been unable to fully research a definition of "working poor" but were able (on the handout provided to the Board) to demonstrate the rising cost of living and the decreasing buying power of the dollar since classified staff salaries were frozen in 2002. Sara also stressed respondents' requests that the Regents not be misled into thinking that those employees not working two jobs are adequately paid. Sara mentioned that a full report of the "two jobs" question had been forwarded to President Gamble.
Regent Mercer suggested CEPAC/Staff Senates participate with the MUS/community shared government programs in working towards improving the poverty level.
Regent Semmens pointed out that the Board of Regents had undertaken a system-wide salary survey (coordinated by Commissioner Stearns). He anticipated completion within the next 4-6 months, and this news was enthusiastically received by CEPAC/Staff Senates.
Kristine Csorosz spoke about motivation and production. She reported the existence of highly motivated (self-motivated) staff on all campuses and pride they take in their work. She explained that such people often see the time required for the cumbersome procedures of various aspects of the MAP program to be an inefficient use of their time. She referred to Regent Roehm's question about achievement pay and suggested that a cost of living increase might be a good point from which to start considering funding.
Bonnie White asked Regent Mercer whether he and the Board of Regents could think of some way to bring classified salaries up to cost of living standard. Bonnie respectfully suggested that perhaps the Board might consider the question and address it at the next meeting. Commissioner Stearns asked to speak, to publicly congratulate Kristine Csorosz on her recent "outstanding staff member" award. The meeting was then closed.