Student Summer Camps 2021
Every summer, GEAR UP offers educational summer camps to help our students retain their grade-level learning and remain excited about enrolling in post-secondary colleges, universities, and additional organizations.
If you are an organization seeking funding to support summer programming please complete the Sub-Grant Proposal.
Connect to our Q&A document. Answers to questions posted on January 21st! Posted Question & Answers
Please read below for a list of previously funded summer prorgams.
MedStart
ABOUT THE CAMP: MedStart is a 5-day summer program aimed at developing the next generation of health care providers. Hosted by the Montana AHEC (Areas Health Education Center), MedStart camp immerses students in campus life while providing opportunities to explore a variety of health care careers through simulation activities and job shadows at local facilities. Students also attend college planning sessions to map out their college and career goals. After camp, each regional AHEC office provides support to students that include college resources, financial aid updates, scholarships and connections to further job shadowing within their hometown. The in-person camp is currently full. Applications are still avaiable for the virtual camp.
CAMP ACTIVITIES: Job Shadowing, Dissections, Nursing simulation lab, Emergency Medicine Simulations.
GRADE LEVEL: 10-11
WHEN: June 13th -June 17th (in-person) | July 19th - July 22nd (virtual)
WHERE: The University of Montana Campus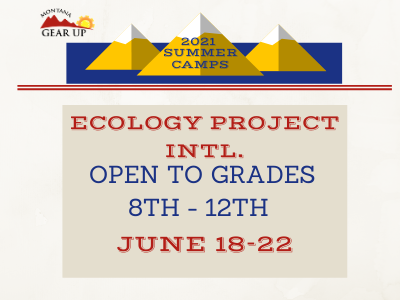 Ecology Project International
ABOUT THE CAMP: Since 2005, Ecology Project International (EPI) has operated the Yellowstone Wildlife Ecology Program, an experiential science education program that partners high school students with scientists and conservation professionals to address critical conservation issues in the Greater Yellowstone Ecosystem (GYE). Through our program, EPI inspires students, at a formative age, to incorporate the scientific process into their daily lives, consider science and research careers, and become community leaders. On each course students learn by doing and contribute in meaningful ways to research and service projects. Over 2,500 students and teachers have participated in EPI's Yellowstone Program, including 59 Montana GEAR UP students.
Camp Activities: Field work, scientific research, STEM and environmental literacy, college major exploration
Grade Level: 8-12
When: June 18 - June 22
Where: Bozeman, MT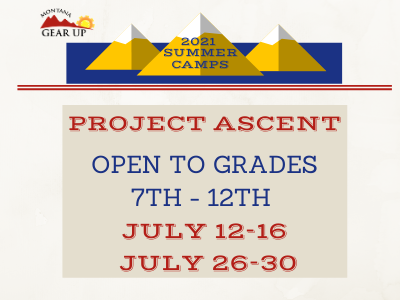 Project ASCENT
ABOUT THE CAMP: Project ASCENT is a summer camp dedicated to providing educational outdoor adventure and recreational opportunities for Montana students. It stands for Adventure, Science, Community, Education, Nature, Teamwork. The program will be based out of the Bull River Pavilion and Thompson Falls State Park/Blossom Lakes. An appreciation of our environment is coupled with the opportunity to meet recreational professionals from our community in a service learning atmosphere. Day one includes Base Camp set-up, preparatory learning, and a short hike, while the last three days include multiple day-hiking experiences, water activities, and a variety of wilderness and stewardship learning opportunities.
CAMP ACTIVITIES: Camping, Hiking, Raparian Ecosystems, Entomology, Wildlife safety, Fish identification and tracking, environmental careers and educational pathways, sustainable living and natural resources.
Grade Level:7-12
When: July 12 - July 16, July 26 - July 30
Where: Thompson Falls, MT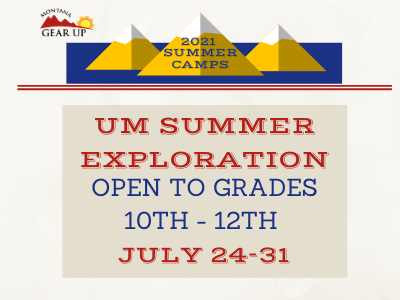 UM Summer Exploration
ABOUT THE CAMP: During the week, both UM and WRFI students will engage in the classroom (whether indoors or outdoors) during the day and in meaningful social activities in the evenings and during the weekend. Students will be exposed to all aspects of life as a UM student. The experiential out-of-the classroom activities will include hiking the "M", visiting the campus recreation center, hearing from other current UM students and departments on campus, a campus tour and a BBQ. COVID permitting, UM Summer is also hoping to partner with several organizations around Missoula for a potential rafting trip, Smokejumpers Museum, etc.
Camp Activities: In-depth look at college life on the University of Montana campus, field work, college coursework
Grade Level: 10-12
When: July 24 - July 31
Where: Missoula, MT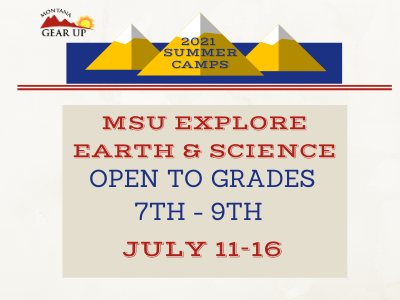 MSU Explore: Earth and Space Science Camp (ESS)
ABOUT THE CAMP: MSU Explore: Earth and Space Science Camp (ESS) is a free five-day summer camp designed to encourage middle school students to learn more about science, technology, engineering and math (STEM). It inspires students to consider science-related careers and encourages them to pursue a college education by experiencing college life.
Camp Activities: College courses, Bozeman leisure activities, Museum of the Rockies, explore Native culture and science; and recreational activities (swimming, bowling, basketball, etc.).
Grade Level: 7-9th
When: July 11 - July 16
Where: Bozeman, MT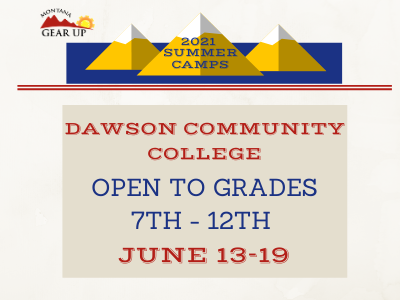 Dawson CC, GEARing UP for College 2021
ABOUT THE CAMP: Students will have the opportunity to fully experience life as a DCC student. This begins with the application process, orientation, class registrations and choosing a career plan. The camp will focus on targeted pathways to assist students in career and educational success. Students will also experience dorm life, intramural and enrichment activities, and hands-on field experiences that a central to life at DCC.
Camp Activities: College prep, career exploration, hands-on experiences, college life
Grade Level: 7-12
When: June 13-19
Where: Glendive, MT
Partners
:
If you are an organization supporting summer academic learning and in need of sponsorship please consider completing the GEAR UP Summer Program Request for Proposal to partner with us in serving GEAR UP students. Call Director Travis Anderson at 406-449-9139 with additional questions.