Student Summer Camps 2020
Montana GEAR UP serves students in 18 Montana middle schools and their receiving high schools to encourage early thinking about college. Every summer, we offer educational summer camps to help our students retain their grade-level learning and remain excited about enrolling in post-secondary colleges, universities, and additional organizations.
Thank you for your interest in attending a GEAR UP 2020 summer camp. Due to current circumstances related to the Covid-19 we have postponed summer camps for summer 2020. We apologize for any inconvenience to you and your families. The camps below are examples from 2019. Thank you. l 406-449-9140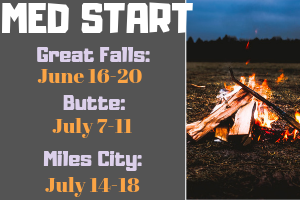 MedStart
ABOUT THE CAMP: MedStart is a 5-day summer program aimed at developing the next generation of health care providers. Hosted by the Montana AHEC (Areas Health Education Center), MedStart camp immerses students in campus life while providing opportunities to explore a variety of health care careers through simulation activities and job shadows at local facilities. Students also attend college planning sessions to map out their college and career goals. After camp, each regional AHEC office provides support to students that include college resources, financial aid updates, scholarships and connections to further job shadowing within their hometown.
CAMP ACTIVITIES: Job Shadowing, Dissections, Nursing simulation lab, Emergency Medicine Simulations.
(Grades: 11-12) REQUIREMENTS:
Preserving the Planet
ABOUT THE CAMP: Carroll College's Preserving the Planet camp demonstrates that the college experience extends far beyond classrooms. During this 7-day/6-night camp, you will use the environment surrounding Helena as a foundation to explore a range of subjects including mathematics, biology, chemistry, physics, engineering, writing, history, and the arts. The camp will focus on the preservation of the world and its cultures through an investigation of indigenous societies in Montana and throughout the world and the conservation of the environment.
CAMP ACTIVITIES: Sustainable building and engineering of water filters in the developing world, pine beetles effects on a hike up Mount Helena, amphibian surveys at Park Lake, a private Pow-wow, and star-gazing at Carroll's observatory.
(Grades: 7-8)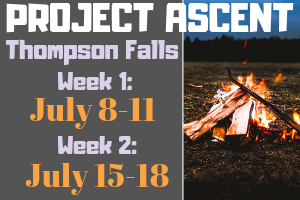 Project Ascent
ABOUT THE CAMP: This program is 4 days, 3 nights at Bull River Pavilion. An appreciation of our environment is coupled with the opportunity to meet recreational professionals from our community in a service learning atmosphere to provide students with the ability and motivation to become lifelong stewards of our wilderness and its offerings. Day one includes Base Camp set-up, preparatory learning, and a short hike, while the last three days include multiple day-hiking experiences, water activities, and a variety of wilderness and stewardship learning opportunities.
CAMP ACTIVITIES: Camping, Hiking, Kayaking, Raparian Ecosystems, Entomology, Wildlife safety, Fish identification and tracking.
(Grades: 7-11) REQUIREMENTS:
The Summer Schwanke Honors Institute
ABOUT THE CAMP: The Summer Schwanke Honors Institute is focused on the environment and sustainability through an immersive, two-week classroom and field-based program. Students live on campus, engage in academics during the mornings, explore Missoula and the surrounding area in the afternoons, and spend the last three days on a trip to Glacier National Park and the Blackfeet Reservation. Students earn three academic, college-level credits in one of two classes offered during the program.
CAMP ACTIVITIES: Immersion in campus life at the University of Montana, engagement in exciting environmental topics, college prepatory activities, exploration of Missoula community, field trip to Glacier National Park and the Blackfeet Reservation.
(Grades: 10-13) REQUIREMENTS:
MSU Explore: Earth and Space Science Camp (ESS)
ABOUT THE CAMP: MSU Explore: Earth and Space Science Camp (ESS) is a free five-day summer camp program sponsored NASA and Montana State—Academic Technology and Outreach. This program is designed to encourage middle school students to learn more about science, technology, engineering and math, as well as experience a taste of college life.
CAMP ACTIVITIES: Build and launch rockets; program drones; study microbes in the lab; visit the Museum of the Rockies; explore Native culture and science; and recreational activities (swimming, bowling, basketball, etc.).
(Grades: 7-8) REQUIREMENTS: